Dr. Walter Claytor
Roanoke's misguided urban renewal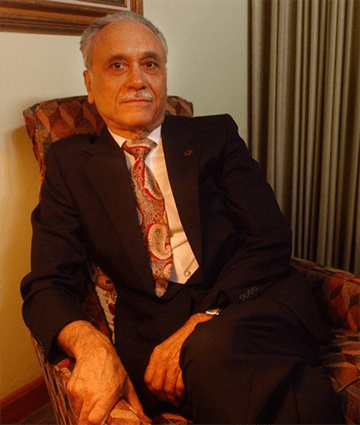 His crusade showed how eminent domain abuse decimated African-American communities.
– By Dennis Hartig
Desperate to rejuvenate its economy in the 1970s, the City of Roanoke plunged headlong into massive downtown urban renewal. In all, it confiscated 1,600 homes, 200 businesses and 24 churches.
Roanoke's urban renewal obliterated a community known as Gainsboro where African Americans could live in peace and prosperity in the harsh racial climate of the Jim Crow era.
Gainsboro was an island of black self-sufficiency sitting in the 1970s on desirable real estate in Roanoke. Within it, a black citizen never had to venture into the white side of Roanoke to go to school, see a doctor, fill up the car, buy a new outfit, get a haircut, party on Saturday night and worship on Sunday.
With the stroke of a pen, the Roanoke Redevelopment and Housing Authority wiped it out, designating the entire neighborhood as "blighted." With this designation, the authority was able to condemn everything within the community, to wipe the slate clean of the many good properties, as well as the run down ones. The decision took away any future for Gainsboro, as the authority tore down or boarded up blocks of homes and businesses draining the life from the community. For the people of Gainsboro, Roanoke's urban removal came to be known bitterly as "Negro removal."
For decades, the Claytors had been one of Gainsboro's prominent families. It produced doctors, businessmen, educators and community leaders. That success allowed the family to erect an enclave of successful businesses on a one-acre block in the shadow of the historic Hotel Roanoke. The family's livelihood was tied up in its medical office building, apartments, shops and garage. But the city coveted it for greater development. And it was inside the boundaries of the "blighted" community.
In 1972 — when a newspaper story described it as a "hot property" — the redevelopment authority told Dr. Walter Claytor, the family's leader, it wanted to acquire it, if necessary by condemning it. But the redevelopment authority never followed through and never bought it.  Nor did the authority ever renounce its intention to acquire it. Years passed, then decades.
Just the threat of condemnation stole Dr. Claytor's ability to keep tenants and secure bank loans, robbing his family of rental income. The properties had to be boarded up. A fire set by vandals finished most of them off. Because his buildings were vacant, he was unable to get insurance, leaving Claytor empty-handed after the fires. He had lost a fortune. And the law was on Roanoke's side.
To no avail, Dr. Claytor repeatedly demanded that Roanoke condemn the property and compensate him, or stop holding it hostage so he could revitalize it. After being rebuffed for so many years, Dr. Claytor finally had enough. He hired Waldo & Lyle to fight what everyone believed was an impossible mission, overcoming the prevailing conviction that citizens cannot sue the government. It had never been successfully done in a case like this in Virginia.
Attorney Joseph Waldo filed suit in 2001 arguing that the city owed years of rent payments Dr. Claytor would have collected if the properties had not been held hostage, unable to escape the steady decline beneath the city's cloud of condemnation. Waldo argued that the city's procrastination and indifference had turned a viable property into a worthless relic. The Claytor family had been financially punished for having done nothing wrong, and that their constitutional rights to fair treatment had been denied.
Over years of depositions, hearing and finally a four-day trial in 2005, the authority questioned how it could be held responsible for doing nothing: if it never condemned the property nor damaged it, then how could it be held financially responsible for its deterioration?
A jury of four whites and one black saw it differently. Almost 30 years after Roanoke put a death sentence on Dr. Claytor's property, the jury awarded him $281,000, plus back interest. Additionally, the Court ordered the authority to pay for all the expenses Dr. Claytor incurred in standing up for his constitutional rights. The award came to more than $600,000 and Dr. Claytor still had his land and it was out from under the cloud of condemnation.
This was more than a personal victory for Dr. Claytor or an overdue vindication for the black citizens of Roanoke. The case transformed Virginia eminent domain law: It imposed tough limits on the careless exercise of condemnation. And it opened the door for property owners to be compensated when the government condemned their property in every way but name only.
The injustice exposed in the Claytor case injected fuel to demands for reform. A few years later, the legislature passed a law that set a five-year stopwatch on condemnations. And in a 2012 referendum, Virginians adopted a constitutional amendment that took away the power of redevelopment authorities to paint whole communities as blighted, then wipe them away as was done to Gainsboro. The Claytor case was the among the strongest evidence for its passage.
Before his retirement in 2008, Dennis Hartig spent four decades reporting and editing for The Virginian-Pilot. As managing editor he directed reporting on eminent domain abuses and, later, as editorial page editor he crusaded for reforms.